Posts Tagged 'xcèntric'
September 15th, 2009
CCCB
Comments Closed
The CCCB's film programme is setting out to travel the world with a cycle of Spanish experimental films
"From Ecstasy to Rapture. 50 Years of Alternative Spanish Film" is the title of the programme of Spanish experimental film going on show as of October in cities such as Melbourne, New York, Washington, Miami, Tokyo, Madrid and London. It offers a retrospective of the experimental film made in Spain between the 1950s and the present day. "From Ecstasy to Rapture …" is the brainchild of Xcentric, the regular film programme at the Centre de Cultura Contemporània de Barcelona.
Thanks to the joint work of the CCCB and the Sociedad Estatal para la Acción Cultural Exterior (SEACEX), foremost international museums and arts centres will be screening the works of filmmakers such as José Val del Omar, Joaquim Puigvert, Eugenio Granell, David Domingo, Oriol Sánchez, Laida Lertxudi, Carles Santos, Javier Aguirre, Eugeni Bonet, José Antonio Sistiaga and Iván Zulueta.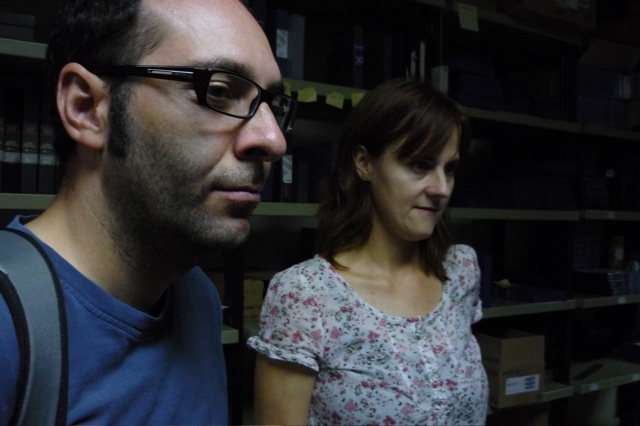 Antoni Pinent, the curator of the programme and Rosa Cardona, curator of the Filmoteca de Catalunya, check the copies of the films before sending them to Melbourne.
Antoni Pinent, the curator of "From Ecstasy to Rapture…", has chosen 43 titles from over 1000, a careful selection of the last 50 years of art-house film and creation. Some works have received little or no projection, and have now been loaned by film libraries or the directors themselves. Xcentric is setting off round the world to showcase some of Spain's little-known film heritage.
Centres hosting "From Ecstasy to Rapture. 50 Years of Alternative Spanish Film":
ACMI, Melbourne, October 2009
Anthology Film Archives, New York, January 2010
National Gallery, Washington, January-March 2010
Bass Museum of Art of Miami, January-February 2010
Image Forum Experimental Film Festival, Tokyo, April 2010
MNCARS, Madrid, May 2010
CCCB, Barcelona, May 2010
TATE-London, March-April 2011
Also interested in the programme are the Prague Film Theatre, Berlin's Arsenal, the Pacific Film Archives in San Francisco, the Irish Museum of Modern Art in Dublin, the Austrian Film Museum in Vienna, the Cinémathèque Québecoise de Montreal, the Kulturhuset in Stockholm, Bologna's Cinemateca and the MAXXI centre in Rome.
DVD catalogue
The documentation and cataloguing of work for "From Ecstasy to Rapture…" have produced a catalogue in DVD and booklet format containing information about the films and the filmmakers represented. The catalogue is edited by Andrés Hispano and Antoni Pinent and will be on sale at the different venues hosting the programme, in specialist shops and on the website of Cameo production company: www.latiendacameo.es
</em><em>http://www.cccb.org/rcs_multimedia/flvxcentric.flv