The Centre de Cultura Contemporània de Barcelona's interest in literature is very much present in its programme, from exhibitions to debates, in performative activities such as Slam Poetry and in consolidated festivals such as Kosmopolis, Primera Persona and Món Llibre. The CCCB is writers' territory and this spring among the interesting authors visiting us are Juan Marsé, Jordi Puntí, Renata Adler, John Irving, Don DeLillo and Svetlana Alexievich. Taking advantage of the visit by the Nobel Laureate in Literature of 2015, we have done a little archaeological digging in our archive to remember other writers who have visited the CCCB and were also winners of this prestigious accolade.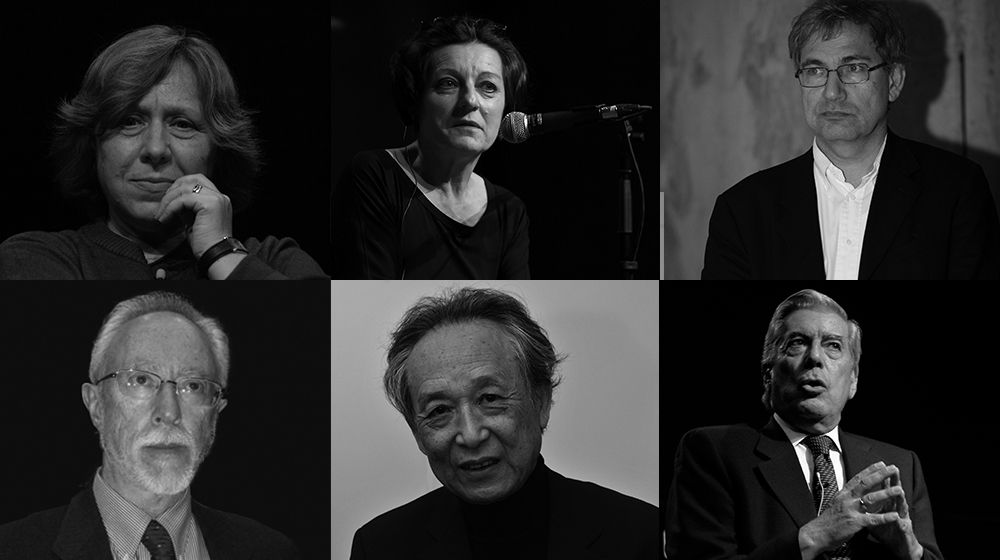 Svetlana Alexievich Nobel Prize in Literature 2015. She visited the CCCB on May 2016 in a conversation with writer Francesc Serés.
Herta Müller Nobel Prize in Literature 2009 – She visited the CCCB in June 2012. She gave the lecture "Language as Homeland" and talked with translator and literary critic Cecilia Dreymüller. To coincide with her presence at the Centre, a small-format exhibition was dedicated to her "Herta Müller: The Vicious Circle of Words".
Orham Pamuk. Nobel Prize in Literature 2006. He visited the CCCB in January 2010. The celebrated Turkish writer gave an interesting lecture on the future of museums and of novels.
J.M.Coetzee. Nobel Prize in Literature 2003. He made a "virtual" visit to the CCCB in October 2008. The South African writer read some excerpts from his book "Diary of A Bad Year" exclusively for the Kosmopolis literature festival.
Gao Xingjian. Nobel Prize in Literature 2000. Visited the CCCB in October 2008. The Chinese writer talked about the reason for being of literature and the sacrifices involved in the defence of creative freedom against the abuses of political or media power. The CCCB devoted an exhibition to him along with a television programme "Soy Cámara. El mundo de Gao"
Mario Vargas Llosa. Nobel Prize in Literature 2010. He visited the CCCB in October 2004.