Posts Tagged 'Arxiu Bolaño'
January 18th, 2013
Lucia Calvo
5 Comments
Perhaps being invisible to the world for a time would make us freer and more creative. In a world like today's where showing yourself on earth, sea and Twitter is now the norm, social isolation as a form of creative escape is becoming a real experiment. By observing the work of Roberto Bolaño and calculating when he wrote it, where he lived and the writer's degree of public visibility during his prolific literary life, one realises that for Bolaño, being invisible to the world – especially to the world of publishing – enabled him to work at becoming a major narrator and poet of the 21st century.
The exhibition «Bolaño Archive: 1977-2003», which the CCCB will inaugurate on 5 March 2013, presents the creative chronology of Roberto Bolaño from the time when, having left behind Chile and Mexico, he went to live in Catalonia: Barcelona (1977-1980), Girona (1981-1985) and Blanes (1985-2003). These are the three places where the author only let himself be seen among neighbours and friends. He lived far removed from the big prizes and offices and devoted himself fully to his writing («The voyage of literature, like that of Ulysses, is only one way») and his family («My two children are my only homeland»).
Video inspired in the post-escriptum of the novel Amberes, written in Barcelona in 1980, with a drawing of Bolaño.  Author: Toni Curcó, 2013, CCCB
Evidence of Bolaño's intense literary activity lies in the 230 manuscripts – most of them originals – that the exhibition presents, along with personal items, books, unpublished family photographs which will be a treasure trove for Bolañistas and a way for the public less familiar with the author to immerse themselves in the Bolaño universe. The chronological itinerary is completed with a prologue, an essential reference to the years Bolaño lived in Mexico and an epilogue that closes the exhibition and analyses Bolaño's influence on the literature of the 21st century.
Valérie Miles, co-editor of the magazine Granta and Juan Insua, director of the CCCB Lab  and creator of other CCCB exhibitions dedicated to other literary geniuses such as Joyce, Kafka and Borges, are behind this exhibition project which makes use of themes and resources from Bolaño's literary kitchen (play, humour, enigmas, detective-style investigation, the kaleidoscope) to make up the route to be followed by visitors at the exhibition.
Novels, short stories, interviews, notebooks (with flawless handwriting!), correspondence and strategy games (in which Bolaño was a brilliant specialist)  make up what is only a first exploration of the personal archive of the writer which his widow Carolina López has ordered and preserved since Bolaño died ten years ago.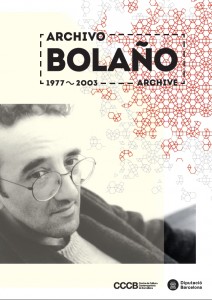 «Bolaño Archive: 1977-2003» is a tribute to the author of such literary masterpieces as «Los Detectives Salvajes» (The Savage Detectives) and «2666» which features the participation of some of his friends. In the exhibition catalogue, we find fascinating accounts by A.G.Porta, Javier Cercas and Enrique Vila-Matas about the relationship each had with Bolaño, a great talker, happy reader and impassioned bibliophile. "A writer of yore," writes Vila-Matas. Articles by Valérie Miles, Juan Insua, Olvido García Valdés, Barbara Epler and Patricia Espinosa complete the catalogue.
One week after the exhibition's inauguration, from 14 to 16 March, the CCCB will be hosting Kosmopolis, the Amplified Literature Fest, which has programmed a series of activities to complete the tribute: a poetic recital with Olvido García Valdés, who will recite a collection of her own poems crossed with verses by Bolaño; the discussion "Roberto Bolaño: the gestation of a myth" with A.G. Porta, Pere Gimferrer, Jaume Vallcorba, Jorge Herralde and Juan Antonio Masoliver Ródenas and the premiere of Il Futuro, a film by Alicia Scherson based on Bolaño's book "Una novelita lumpen". Dramatists Àlex Rigola and Pablo Ley, who signed the stage adaptation of «2666» for the Teatre Lliure, are also planning to take part in Kosmopolis with a special activity.