Like it or not, we're all modern. And logically, though some people have never acted it, we've all been young at some point. Young people in the seventies longed to be up on the stage of Gente Joven, the programme broadcast by the only TV channel, dictated by circumstance. Today, young—and not so young—people are discovering that the music of Gente Joven retrieves the bygone sounds of Spanish lower-case pop. Under a mantle of languor and somnambulism, between early Sr. Chinarro, The Cure and Donosti Sound—including Vainica Doble—the three-piece band comprising Patricia Magadán, Pablo Álvarez and Fernando de la Flor debuts with their Roman-lettered disc (I, II, III y IV, Discos de Kirlian, 13) and minimum aspirations.
They'll be presenting their set on 15 February on the Emergència! stage. We talked to Fernando de la Flor, the group's ideologue with a long career on the Spanish indie pop scene.
An easy one to start: how and why did you form the group?
It started in the summer of 2013. I've played with other bands and I've always had my own projects on the boil. The difference this time is the incorporation of the voice of Patricia (Madagán). We sing together in almost all the songs. Pablo (Álvarez) later joined the project to form our current line-up.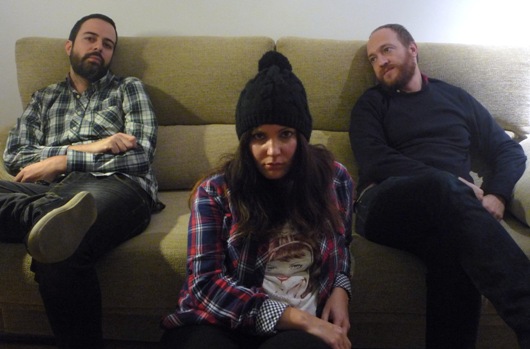 Why did you choose a name that goes back to that whole authentic movement?
Firstly, "Gente Joven" is the TVE music programme we used to watch when I was a kid. Then there's the concept of "Gente Joven" as a nostalgic and even decadent idea. Most of the retired people I know—and it's a growing group—are more nostalgic about those days than about their childhood.
I see you've been identified with dream pop, with a kind of sleepiness, because of the way you sing. Would I be wrong to say that you go more by sensations than by labels?
The music we make doesn't set out to emulate any particular style, but dream pop is a name that goes very well with what we want to express. The night-time mood, whispering voices and crypticism of some of the lyrics aim more at discretion, or stealth. I'd say we walk the line between keeping a low profile and not being invisible, if that's an idea you can relate to music.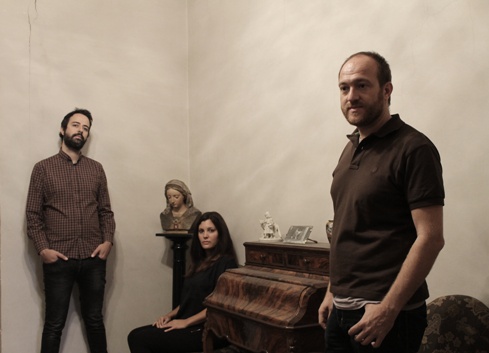 What stories do you set out to tell with your songs? What are they about? 
The sensations conveyed by the songs can be seen as melancholic or sad, without going as far as depression or anxiety. Heartbreak is a theme running through our debut cd I, II, III y IV (Discos de Kirlian, 2013). There's also a touch of the mysterious and the inexplicable behind some of the more abstract, obscure songs.
The songs have a strong visual power. Your ideas have a striking visual content. Perhaps the images I see are like the "early lights with a blinding impact" you talk about in one of your songs. How do you go about creating these ideas that take visual form?
We like to focus on images or on the visual nature of a situation or scene. I don't feel very comfortable with the confessional style. I shun the explicit, I prefer to take a roundabout approach and then hit home with a line or an expression that give a touch of reality to the song to avoid getting too surrealistic.
I think your influences explain your music. Not completely, but they are really illustrative. Can you name five of these names that contribute to the essence of Gente Joven?
Sr Chinarro – "NH3 Light"
The influence on our music of the more "abstract" period of Sr Chinarro is obvious. I love that mix of rather sad melodies and texts, run through with references from that time. I chose this video because the racing cars and the adverts on the racetrack represent Gente Joven's idea of melancholy.
The New Year – "Disease"
The New Year/Bedhead are an example of what I was saying before about being discreet but up there. The Kadane brothers have exquisite taste when it comes to writing exciting songs without being heavy or pretentious. And Chris Brokaw on drums. What more could you ask for?
Wild Nothing – "Full Performance"
Wild Nothing is one of the current dream pop groups I like best. I saw this video at Pablo's after a long night of beers and cider in Xixón—a live half-hour gig where they play their singles and best songs. If I ever form a band with a drummer, bass player and keyboards, I'd like us to sound like this.
Burial – "Stolen dog"
Squalid rhythms, endless echoes, melancholy, night time and cold. These are all important elements in the music we make and Burial puts them together like no one else. If you lose your dog or someone steals it, the sensation must be a bit like what this song conveys.
Galaxie 500 - "Temperature's rising"
You don't have to be a virtuoso to write great songs or sing like a nightingale to move people. Galaxie 500 are a good example of this. One of my favourite trios.
http://youtu.be/BvlgOsD6MuI
The Cure – "High"
Disintegration and Wish are two of the discs I've listened to most in my life. The Cure have always been an influence, my sister used to play them all the time. For me, this video is another mark of their sense of humour that belies the group's labels of "dark" or "Gothic". Images of Robert Smith being swallowed by a giant spider or hanging onto a kite are hilarious. It's vital not to take yourself too seriously.
Gente Joven present their first disc "I, II, III y IV" on the Auditorium stage of the CCCB at the sixth Emergència! festival.